Figuring out how to set up a two-step verification for your Walmart One account on the Asda network can be a little tricky for the first time. That is why we have decided to provide you with a user guide that helps you set up a two-step verification. Read the full article to know the whys and hows of the process.
Even the most tech-savvy people might find it difficult to log in to their employee accounts using the two-step verification method on Walmart One. So it's common for normal people to seek help navigating the portal. We will guide you through setting up a two-step verification process with clear instructions. But before that, let us know why one has to sign up for this two-step verification process.
Walmart One – Why 2-Step Verification Process?
The two-step verification process is of only one importance, to keep the data safe. When someone logins to their account on their device, the two-step verification helps keep your and Walmart's data secure by adding this extra layer of security. Two-step verification is, in short, known as 2SV. In our case, the 2SV is done with the help of a 6-digit code which is sent to your registered personal device through text, call, or app. That code will be used to log in to one's account.
Walmart One – How To Setup 2-Step Verification. 
To log in to your OneAsda account on your device, you must first sign up for a 2-step verification process. Below we have mentioned the required details and instructions to do that.
Things Required
An active internet connection.
An internet-enabled device such as a smartphone, laptop, tablet, PC, etc.
Your Walmart One account user ID and password.
Instructions
Follow the step-by-step instructions below, and you can log in to your account.
First, you must ensure your device is connected to the internet.
Then, open your device's internet browser, such as Chrome, Safari, Edge, or Firefox.
In the search bar, enter the Walmart One employee login website URL: pfedprod.wal-mart.com.
Once you visit the above URL, your screen will look like this.
Here, first, you have to enter your User ID.
Then you have to select the region or country you are in.
And then, you have to select the location where you are at. Home Office, Store/Club, Pharmacy & Optical, and DC are available options.
Upon selecting, click on sign in.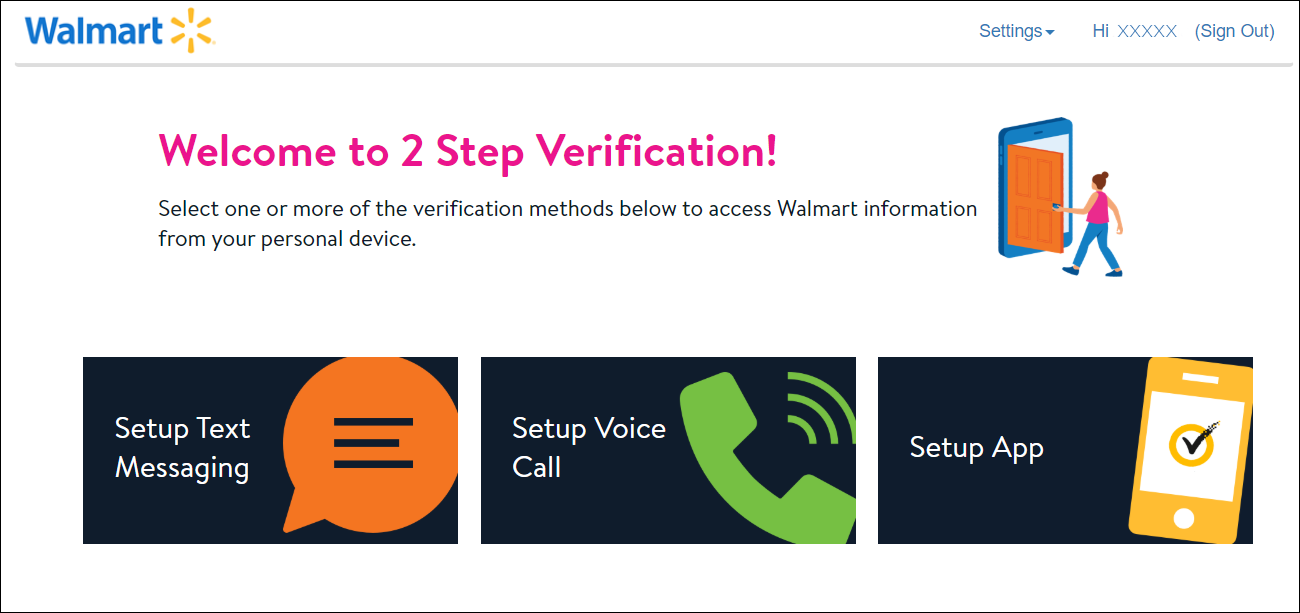 First, make sure your name is displayed at the top right corner.
Afterward, select the methods you wish to use to log in to your device. Three options are available: text message, voice call, and app.
You will be landed on these pages based on the method you selected.

For Text Messaging: First, select your country code and enter your telephone number. Upon entering, click on send code. Enter the code you received and click on submit to verify your account.
For Voice Call: First, select your country code and enter your telephone number. Then re-enter it to confirm. Finally, click on submit to complete registration.
For App: Download the VIP Access app on our mobile. Then, open the app, enter the credential ID and security code on your mobile screen, and click submit to complete registration.
And that's it. You have signed up for two-step verification.
The next time you want to log in, you have to select the verification method (by text, call, or app). Then enter your security code and click on send. The verification code will be sent to your registered device, using which you can log in to your account.
Need More Help? Contact Walmart Helpdesk
If you still need help setting up the two-step verification or facing any technical issues, errors, or bugs, then you may seek support from Walmart/ASDA technology service desk.
Contact number: 0113 826 1262
HRSS: 0113 291 9000
Final Words
We have provided a detailed guide on how to set up two-step verification on your Walmart account. We hope that our article was helpful to you in any which way. Even if you have found a little piece of information that helped you, we feel our job is done well. If we helped you, do let us know by writing in the comments below. It means a lot to us. Thank you.