Pupils who want to continue their studying and go to the sixth form or college can't but take General Certificate of Secondary Education or GCSE in short. It's an important part of the educational system in England, Wales, and Northern Ireland. Students aged 15-16 think about the necessity to choose subjects for their GCSEs. 
There are some tips to help you to make the right choices:
You should get acquainted with the entry requirements of the university course you want to take;

You should take into account subjects you are good at;

You can take up to 9 subjects;

There are compulsory GCSE options.  They include the English language, Math, and Science;
Students who are planning to study history at university. For them, an A-level in history is a must. It's a great advantage if you get  A-level in equivalent subjects such as Economics, Politics, Philosophy or English literature. The main requirement is that the subjects should be essay-based. 
GCSE History: Features and Peculiarities 
A lot of students believe that the most difficult part of GCSE History is plenty of dates. You have to learn by heart hundreds of dates, events, people, and effects. Yet, GCSE History essays are not the easiest part of the test, too. Some students find them to be extremely boring and exhausting. Others like to express their attitudes towards this or that historical event. The control assessment is of great importance when it comes to good GCSE History grades.
There are four main reasons why it's worth choosing History as a GCSE subject:
You broaden your outlook and enrich knowledge;

It is challenging and exciting;

It offers a wide range of opportunities for debates;

It's the best way to exercise your brain. 
To cope with the test, you have to pay a lot of attention to preparation for essay writing. The thing is that with the help of various techniques, it's quite easy to remember the dates. Yet, writing assignments need critical thinking. 
You have to understand clearly what you get points for. According to The Office of Qualifications and Examinations Regulation, there are 9 things about GCSE grades you should consider. When it comes to GCSE History essay, the most crucial ones are the following:
Content is more challenging;

Grades from 9 to 1 help to differentiate the students with different abilities. 
Helpful Hacks on How to Cope with Gcse History Essay
One of the most effective techniques to write a good GCSE History essay is DEAE. It stands for:
Analyze and use your knowledge;
Evaluate the fact, and decide whether it's reliable or not. 
The sentence starters are your best friends. It's a good idea to learn them. They help to structure the text. Moreover, with their help, it's easier to explain your thoughts. The following table contains all the necessary sentence starters. It's worth using them in your essays.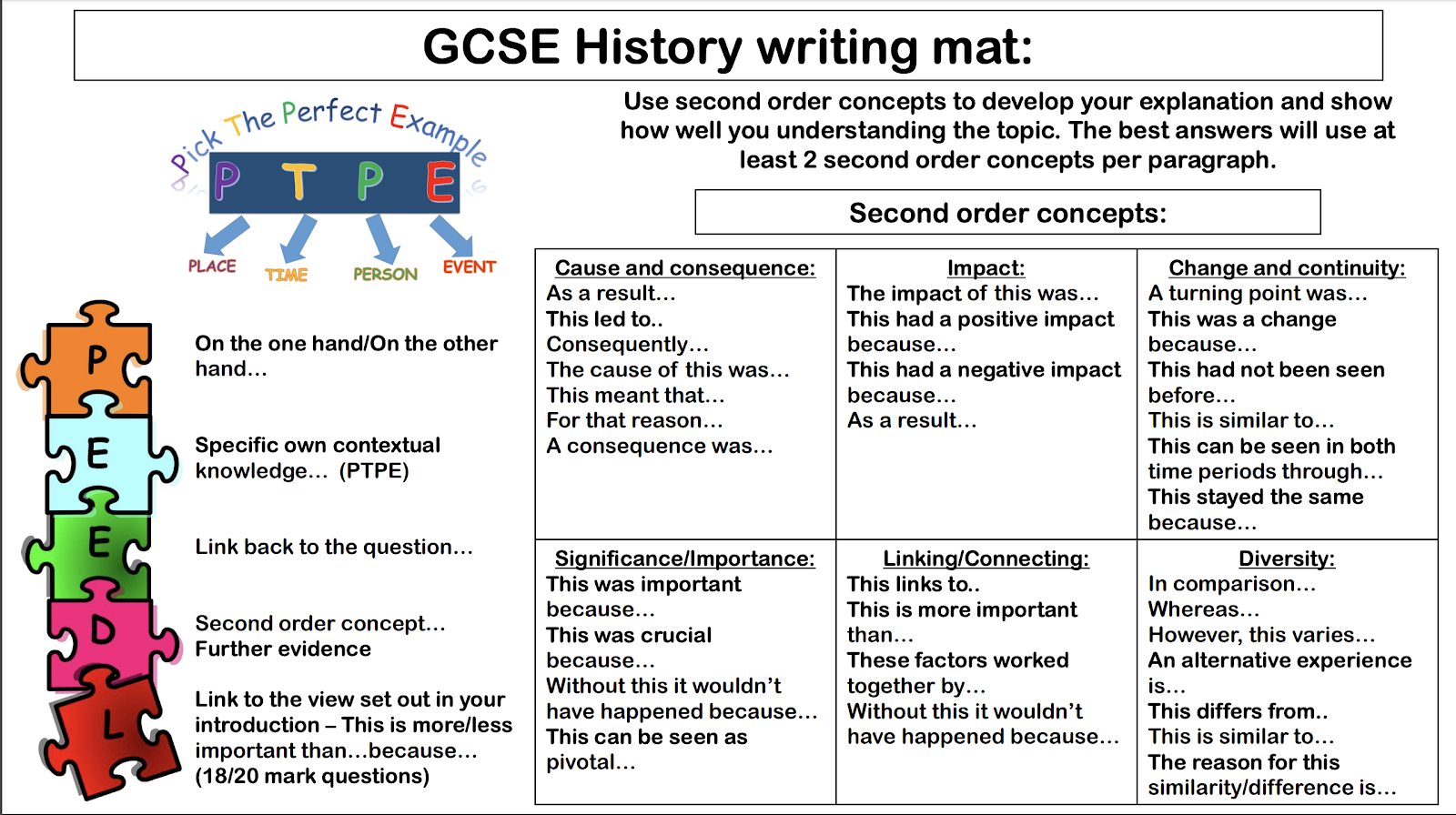 The Structure of GCSE History Essay
We asked some professional academic writers from SmartWritingService, a leading essay writing service, to share their knowledge about the standard structure of GCSE history essay which consists of three main parts: 
The introduction

. It should include a very stubble reference to the question. The background information is also preferable. Yet, you have to remember that there is no need in describing the whole historical era.  You have to state out what you are going to talk about.

The main body of the essay

. It's the most important part of the extended writing question. That's why it's not surprising that it's the most difficult part, too. The number of possible paragraphs isn't limited. Yet, the ideal variant to divide the text into 6 paragraphs. 3 of them should be for the stated argument and 3 against the argument. You should not just to tell the story but analyze the events. It's important to refer to the question at some point in the essay. You don't need to make your essay extra complicated. At the same time, it should sound professional. 

Conclusion

. It's not the repetition of the body of the essay. No more points or evidence are needed. You have to conclude why this or that argument is better and why. It's a balancing summary of the above-mentioned information. 
Things to Keep in Mind When Writing an Essay
An extended writing question is not the only retelling of everything you know about the definite historical event. Its main aim is to investigate how you understand the topic. It requires students to make a judgment of a significant topic. Your judgment should be clear, sustained, and well-supported. 
The first thing is to read the question carefully. You have to underline the keyword. Very often, the task is about continuity, change, significance or impact on the relation. You don't need to list all historical events. You have to explain or evaluate them. 
The next step to take is to make a plan for your answer. You should make your judgment at the start of the answer and refer back to it throughout. A good answer includes as much specific and detailed knowledge as possible. It's very important to care over capital letters, check spelling and punctuation. There is a strict rule that forbids speaking in the first person. 
The Secrets of Successful Exam
There are some points that can help you to gain the maximum results. The first one is a profound preparation. You can't get even 1 point if you know nothing. The next thing is good concentration. You should remember that panic is your worst enemy. 
To sum it up, you should remember that the GCSE History essay is a good way to get more points on your final exam. It's worth trying to show your best abilities.