As you all know today is Monday and candidates will be nominated for elimination in Bigg Boss. These are the candidates that are nominated for elimination: Vanitha, Kavin, Sherin, Sandy, and Tharshan. One of these candidates will leave the Bigg Boss house this Sunday.
Today, The common nomination process was carried out where each contestant has to choose two housemates whom they want to eliminate. This was carried out in the confession room where the contestants are alone and only Bigg Boss can hear them.
Who Voted From Whom?
Vanitha voted for Tharshan and Sherin, Sherin voted for Vanitha and Sandy, Sandy voted for Vanitha and Sherin, Mugen voted for Vanitha and Tharshan, Tharshan voted for Vanitha and Sandy, Losliya voted for Vanitha and Sherin, Kavin voted for Vanitha and Sherin.
So Vanitha with 6 votes, Shrein with 4 votes, Sandy with 2 votes, and Tharshan with 2 votes got nominated for elimination. And Kavin was directly nominated for eliminations for his poor performance in luxury budget task.
After the nomination process is done,  Bigg Boss has declared that Vanitha, Kavin, Sherin, Sandy, and Tharshan will be facing the elimination race this week.
Here's How To Save Your Favorite Contestant By Voting
There are two ways to vote for your favorite housemate. One is through Hotstar app and other is by giving the missed call to the number allotted to each candidate. We will let you know how to do both.
Bigg Boss Tamil Vote Through Hotstar
Download Hotstar app in your Phone
Login in the app using your mobile number, email address or by using your social media account i.e. facebook
Touch Bigg Boss Tamil 3 Banner or if you are unable to see the banner then search it from search box by typing Bigg Boss Tamil 3.
Touch the "Vote" Button
Find contestants who are facing elimination this week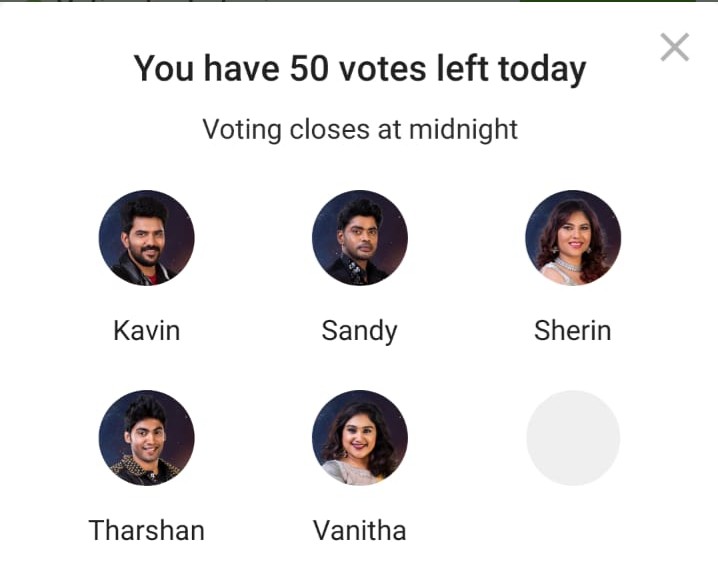 You can vote for your favorite contestant. You can vote 50 times in a day. You can vote up to Saturday midnight. You can vote to your favorite contest or you can divide it into more than one contestant.
Bigg Boss Tamil Voting By Giving Missed Call
Viewers can cast their votes through the Mobile phone. Each contestant is allotted a number and people can give Ten missed calls from 1 number in a week. Check out the numbers that are allotted to each contestant.
Vanitha: 836 7769 815
Kavin: 836 7796 804
Tharshan: 836 7796 814
Sandy: 836 7796 811
Sherin Shringar: 836 7796 813
So, audiences vote your favorite contestant and save them to be eliminated this week. Steps to votes to your favorite contestant is given above, follow those steps and save your favorite contestant and make them the winner at the end of the season.