The 48 days event of rising Lord Sri Athi Varadar started on 1st July 2019 and ended on 16th August 2019, with the deity being taken back to the tank. The once in 40 years event witnessed a huge collection from devotees.
According to the sources, The Hindu Religious and Charitable Endowments Department has earned Rs. 8 crores in "Hundi" collection at the Sri Devarajaperumal temple in Kancheepuram.

This collection was done from about 1 crore devotees who visited the temple for darshan. The HR & CE Commissioner Phanindra Reddy says, "This is a record for the temple."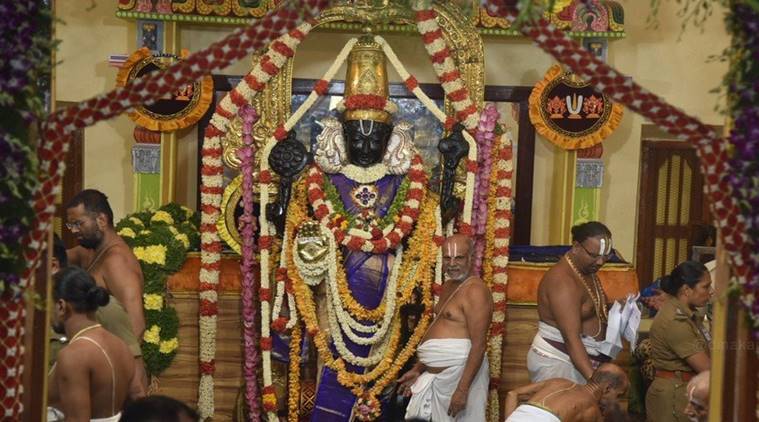 During the festival, the donations were made by several VIPs.
Rs. 1.5 crore was received for annadanam (free feast) alone, out of which mostly variety of rice was distributed. Apart from this, Rs. 2.5 crore was received by online sale of around two lakhs special darshan tickets.
In the series of pujas that were performed since morning, around 48 varieties of prasad (offerings) were placed before the idol.
At 4 pm, the utsava idol of Lord Devarajaperumal was brought to the one of Athi Varadar at the Vasantha Mandapam, Arathi was performed and preparations were started for immersion of Athi Varadar in the Anantasaras tank.
On the day when the idol was to be immersed back, oil made from sandal and medicinal herbs were applied to the statue of the deity. This is a practice followed for long and is done to prevent the statue from decaying and aging.
During the festival, when the rush of pilgrims who visited the temple for darshan, was increasing day by day, more than 12,500 police personnel, at least 2500 municipal workers and officials, revenue officials, thousands of HR & CE officials were full in the swing in managing the huge crowds.