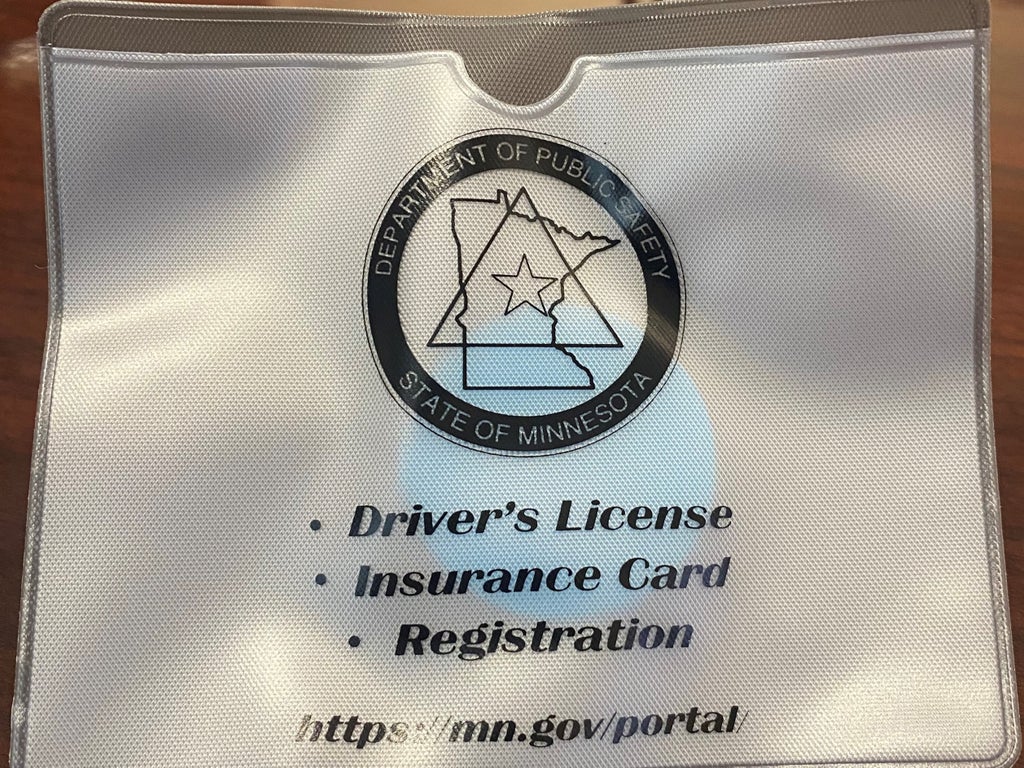 The Minnesota Department of Public Safety (DPS) has unveiled its latest campaign for protecting its citizens: "Not-Reaching Pouches."
The clear-bags, which were created by Valerie Castile, mother of the late Philanto Castile, who was fatally shot by police at a traffic stop in St. Paul, are meant to store drivers licenses and insurance cards in visible locations to "help reduce deadly force encounters between law enforcement and citizens during traffic stops," the Minnesota Office of Communications announced.
"Not reaching" refers to not reaching for a weapon, which, in theory, is a message the pouch would be signaled to authorities, hopefully preventing others from falling victim to same fate as Castile.
Castile, who was legally carrying a firearm when pulled over in in 2016, attempted to obtain his license and registration whilst driving with his daughter and girlfriend. Authorities interpreted this action his "reaching for" the gun, and proceeded to shoot him five times. After having been shot, Castile reiterated, "I wasn't reaching for it," before succumbing to his injuries and dying 20 minutes later. It's a story that Americans know all too well, and even more so in recent years: The fatal phenomenon of the "unarmed Black man" unjustly losing their lives to fatal police encounters.
"We are continually looking for ways to reduce deadly force encounters as these instances can be catastrophic for police officers, and community members," DPS Assistant Commissioner Booker Hodges said in a press release. "By working together with Ms. Castile, who has tirelessly advocated for these since her son was killed in a deadly force encounter with law enforcement, we are hoping these pouches help in some way reduce these instances, even if it's just one."
While the Minneapolis Police Department certainly means well with the "not-reaching pouches," and Castile's mother means better than anyone, desperate to keep other mothers from suffering as she has, critics aren't pleased with department's latest attempt to save face. This isn't a judgement against Valerie Castile. Instead, it's the criticism of the department that was responsible for Philando Castile's death and George Floyd's recent death. This led to worldwide protests, debates, legislative proposals, and demonstrations against police brutality, racial injustice, and incitement to legislation.
Therefore, the disapproval isn't exactly unfounded: This department in particular hasn't exactly been lauded in headlines over the past year.
"Why don't you try keeping your guns in a pouch to minimize shooting drivers?" one netizen tweeted at the Minnesota Department of Public Safety. Another quipped, "Of course I will take my license out of my wallet and place it in the 'don't murder me pouch' every time I get in the car."
"Maybe we can just hire/train police better," they continued. "Which includes firing the ones who have shady stuff in their files? Maybe?"
"Dear Minnesota, this is not the flex you think it is. Cops shouldn't need to see a pouch in order not to shoot. #PoliceReformNow," the NAACP reiterated.
Thousands took to Twitter to express similar sentiments, writing, "how about just not murdering people," and "crazy idea…just don't shoot us?"
Indy100 has reached out to the Minnesota Department Public Safety for comment.