Microsoft Xbox Sign-in: Have you just gotten a new Xbox and wondering how to create an Xbox account through the Microsoft website? Then you are in the right place. This article is a user guide with full information and instructions on creating and signing in to an Xbox account.
Microsoft has developed a feature called 'One account for everything Xbox.' So you can connect with your friends and play all your favorite games over multiple Xbox devices using only one account. And this article will help you in creating that account. But before we do that, let us know more about Microsoft and Xbox.
About Microsoft and Xbox
As we all know, Xbox is a video gaming brand created and owned by Microsoft. The brand was launched on November 15, 2001. From the 2000s to today, Sony's Playstation is considered its biggest rival. The official website of Xbox is www.xbox.com.
Xbox is part of the Xbox network, which Microsoft also owns. The Xbox network is an online multiplayer gaming and digital media service with over 90 million members as of April 2020. So anyone who uses an Xbox has to create a Microsoft account using its website. So how does one do that? Well, let's know about it.
How To Create An Xbox Account?
The process of creating an Xbox account is very simple. Below we have mentioned the things required and instructions to log in to your account.
Things Required
An active internet connection.
An internet-enabled device such as your Xbox, smartphone, laptop, tablet, PC, etc.
Step-by-step instructions
First, you must ensure your device is connected to the internet.
Then, open your device's internet browser, such as Chrome, Safari, Edge, or Firefox.
In the search bar, enter the URL of the Xbox live page: www.xbox.com/live
Once you visit the above URL, your screen will look like this.
Here, you have to click on 'Create a Free Account.
Upon clicking it, you will land on a new tab that looks like this.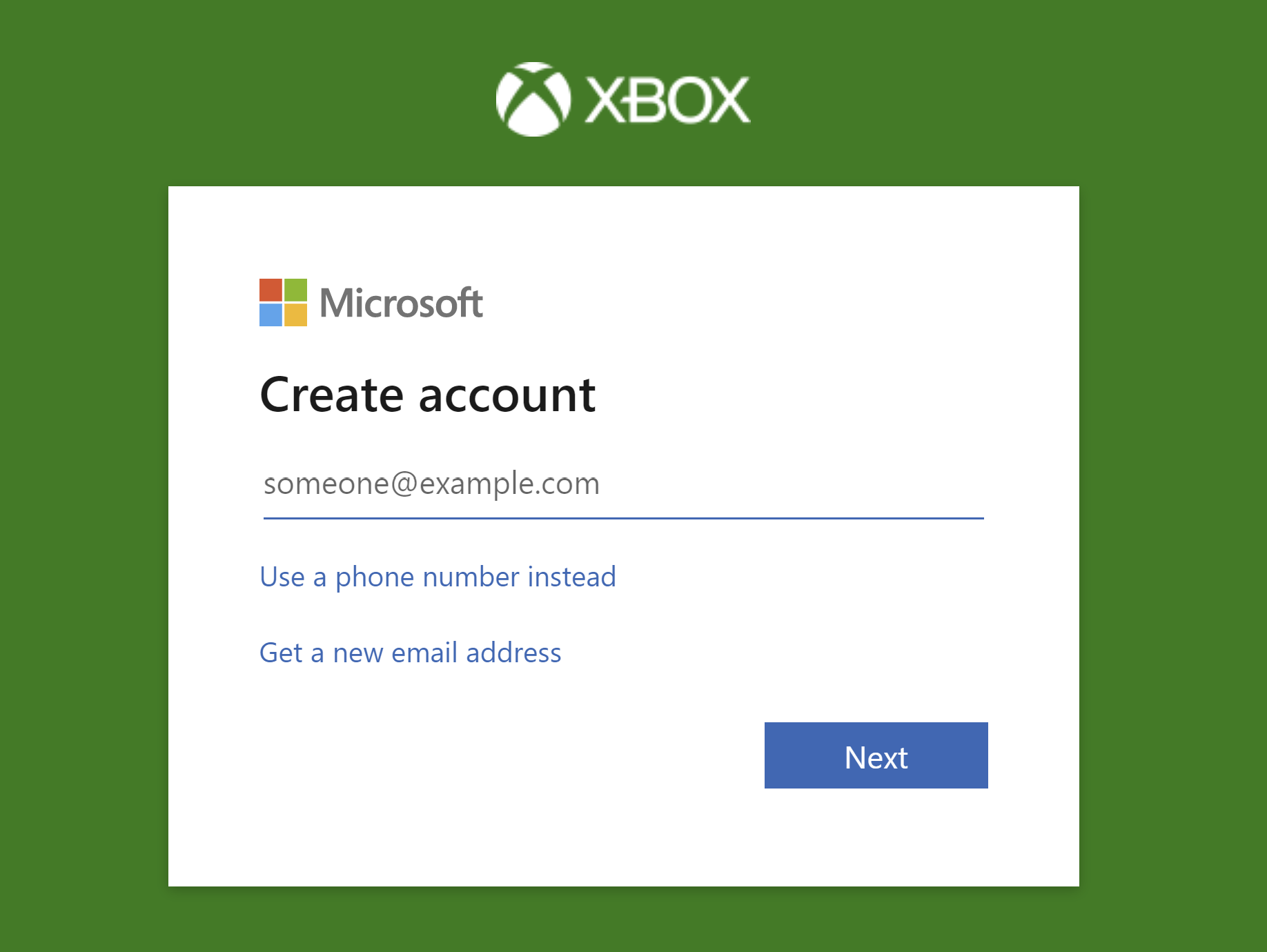 Here, you have to enter your current email address. If you don't have an email, you can get a new email address by clicking on the 'Get an unknown email address option.
You can also use your phone number by clicking on the option.
Once you have entered your email or phone number, click on 'Next.'
Now you have to choose a password for your Microsoft account and click 'Next.'
Then a confirmation code will be sent to your email address or phone number. Use it to validate your account.
And that's it; your Xbox Microsoft account is created.
Use your account email, phone number, and password to log in to your account the next time. Are you wondering how one does do that? Don't worry. We will let you know how to do that as well.
How To Sign Into My Xbox Account?
Signing in to a Microsoft Xbox account is also very simple. All you need is the account email or phone number and password. Then, follow the below instructions to sign in to your account.
The first few steps for signing in are similar. Follow the first three steps from the create account segment until you reach the home page.
You must click the 'Sign In' option on the home page.
Upon clicking it, you will land on a new tab that looks like this.
First, enter your email, skype, or phone number and click 'Next.'
Then you have to enter your account password. (You can also explore other ways to Sign-in by clicking on the 'Sign-in options.
Ensure you've entered the password correctly, and click the 'Sign in' button.
And that's it. You will be logged into your account.
Xbox Customer Support 
If you still need help performing any of the above actions or facing any issues, you may seek support from Xbox customer care. You can contact them over the phone or use the web chat option. Here is the link to the Xbox support page: support.xbox.com/contact-us
We hope that the information and instructions provided in this article were useful to you in some way. Thank you for reaching out to us.