Lens fans tried to reach the travelling away support of Lille by crossing the pitch during the half-time break of their Ligue 1 meeting on Saturday afternoon.
Franck Haise's team entered the game with two wins and three draws out of five fixtures. Reigning champions Lille were seated in 13th.
After Nice was disqualified from the league following their clash with Marseille earlier in the month, this incident will be replayed with no fans present.
After initial tension between away fans this weekend which saw seats being thrown, home fans flooded onto the pitch to approach their rivals.
Riot police were then forced to intervene with stewards overwhelmed, with reports in France claiming one supporter and one member of the police were left injured.
A small group of Lille supporters were initially protected by a few stewards. However, police arrived quickly to take over the situation with half-time sprinklers watering and securing the pitch.
The Derby du Nord is the name given to the match between the rivals.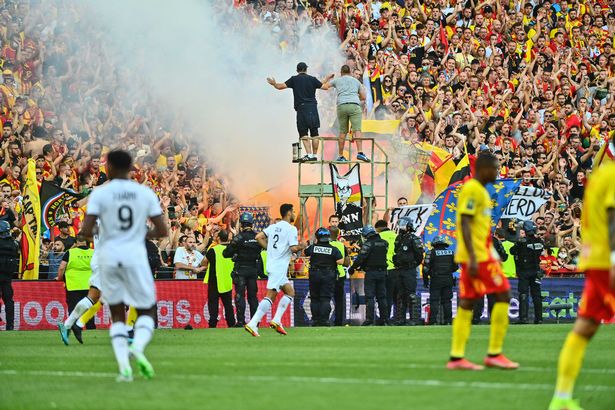 With the game delayed by 15 minutes longer than usual at the break, Przemyslaw Frankowski's 74th-minute winner made things even worse for Lille following a tricky start to the season.
The official Lille website wrote in their match report: "Half-time gives rise to an invasion of the field from part of the Lensois public.
"A crisis unit is then assembled and the start of the second period delayed.
"The second act finally begins more than forty minutes after the end of the first, with a cordon of CRS (the general reserve of the French National Police) along the sideline …"
Although the match wasn't abandoned like the aforementioned clash between Nice and Marseille, Ligue 1 bosses showed that they are willing to punish those who break the rules.
They said at the time: "Meeting this Wednesday, the Disciplinary Commission of the LFP ruled on the incidents which punctuated the match of the 3rd day of Ligue 1 Uber Eats between OGC Nice and Olympique de Marseille.
"After reading the investigation report in the presence of the two clubs, the Commission decided to replay the match on a relocated field. OGC Nice was penalized with two points and one suspended point.