"The Match 5" is celebrating its third anniversary where it all began, and is slated for its fifth edition, a one-on-one showdown between Bryson DeChambeau and Brooks Koepka in Las Vegas.
The festivities have already begun, with DeChambeau Touching Koepka's face from a tee box atop the Wynn Las Vegas. The two will argue over a 12-hole game at Wynn Golf Club at 4 p.m. on Nov. 26, the day after Thanksgiving.
The series began with a showdown between two players with 21 majors – Tiger Woods and Phil Mickelson. It has also featured the winners of 10 Super Bowl titles (Tom Brady, Peyton Manning, and Aaron Rodgers) and three NBA championships (all by Stephen Curry — sorry, Charles Barkley). The previous four editions of "The Match" have produced many memorable moments. Here are the five best moments in 'The Match' history as a starter for this latest event.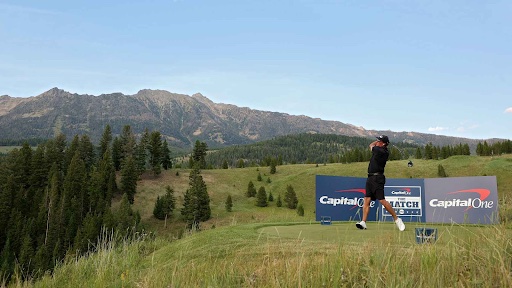 Tiger and Phil play in the dark.
Under the lights in Las Vegas, Woods and Mickelson added a new chapter to their legendary rivalry with their highly anticipated, mano-a-mano showdown in the debut of "The Match."
Neither player had a lead of more than one 1-up in the rules. So they ran from 18 all square and forced the competition into extra holes. They both dodged the 19th hole—a repeat of the par-5 18th—before transitioning to a modified 93-yard 20th hole with a tee box on the Shadow Creek putting green.
Woods went up and down for par while Mickelson just missed a birdie attempt within 18 feet. Mickelson again played the hole for the third playoff and the 21st of the day, and birdie putt for the win but missed about 2 yards away. Meanwhile, Woods had a 5-footer for par, which Mickelson told Woods, "I don't want to win that way."
On the 22nd hole, with the lights a necessity, Woods set his tee shot within 10 yards, but Mickelson stopped his shot within 5 yards. Woods missed his putt, Mickelson made him and won the $9 million prize.
Tiger trolls Phil's US Open woes
In "The Match II," Woods and Manning played against Mickelson and Brady. The fifth hole featured a single club challenge where each player was required to use only a single club on the spot. Woods went with a four iron, and Mickelson picked up a six iron. Despite using a longer club, Woods had to hit his approach shot first.
When Mickelson was preparing his shot from a muddy lie about 150 yards away, he asked Woods to mark his ball on the green. "Would you like me to mark it with my US Open medal?" Woods asked, scoring an apparent jab.
Responded Mickelson: "Do you have one? I have a few silver ones. Do you have any other gold?' "I should have three," Tiger joked back.
Credit Mickelson for taking this burn to heart. Although he has won 45 PGA TOUR titles (tied for eighth all-time) and six majors in his career, the US Open is the only title standing between him and the Grand Slam. In addition, Mickelson has six runner-up finishes in his national championship, including a runner-up finish to Woods in 2002.
Tom Brady goes out, silences Barkley.
Tom Brady, one of the most balanced athletes of all time, finally looked human when he made his debut on 'The Match.' Unfortunately, it got so bad that some even felt sorry for Brady, who kept firing out of bounds and getting into trouble. Brady's struggle allowed Woods and Manning to take a 3-up lead over Mickelson and Brady.
It got to the point where celebrities called in to try and incentivize Brady to turn things around. Koepka offered to donate $100,000 in charity if Brady could muster a par on the first nine. Barkley offered $50,000 if Brady could hit the green on the par-3 fourth hole. Brady waved.
But then came the par-5 seventh hole. Brady was 130 yards from the spot after three shots.
"How many pictures do you want?" Barkley teased Brady as he walked to his ball. "Ah, come on, I'm going to give you some pictures man, I want some from you."
"Don't worry, it's not over yet," Brady replied.
Brady continued with a high, curved approach shot that bounced behind the hole and spun back into the cup.
"Shut up, Chuck," Brady fourth. "Take a little of that medicine. Get your ass out here." It was highly accurate by the most winning quarterback of all time.
Brady's party was short-lived (pun intended). As he stooped to pull his ball out of the hole,
Can't this man take a break!?! The hole-out birdie led to a run from Mickelson and Brady, who pushed "The Match: Champions for Charity" to the last hole. Woods and Manning, however, continued to win by one lead.
Barkley uses the ugliest ball in golf history.
Charles Barkley stepped out of the broadcast booth for his debut in the third edition of 'The Match.' This featured Barkley and Mickelson against Manning and Curry. Known for his terrible swing and love of the game, Barkley wowed fans with marked improvements in his action. A confident Barkley even grabbed his tee number 1 before his ball landed in the fairway.
But the most memorable moment of the match came when Barkley's "NBA on TNT" mates, Ernie Johnson, Kenny Smith, and Shaquille O'Neal, joined the broadcast. When they started mocking Barkley, Mickelson pulled out a ball with Shaq's face on it.
"This is the ugliest ball in the world," Barkley said before slamming it.
Barkley's surprisingly solid play helped the underdog team to victory; however, Mickelson and Barkley defeated Manning and Curry, 4 and 3, the most significant margin of victory in "The Match" history.