Hyderabad Metro Rail Limited (HMRL) is about to launch Metro line connecting Hi-tec city and Raidurg since the ultimate inspection of the overhead power lines is going on.
As the monsoon season kicks in, daily commuters to the hi-tec city are demanding for the completion of the metro on this route. The traffic congestion which is a usual issue in this route is getting intense by the water congestion on road. Most of the IT professionals are opting for the Metro rail given that they can reach office on right time.
Taking this plea into serious consideration HMRL has accelerated the process of extending its route to Raidurg. Which will obviously be beneficial to several commuters. The officials are in rapid work on 1.5 KM distance from Hi-Tec city. They are working on a part of Corridor III also.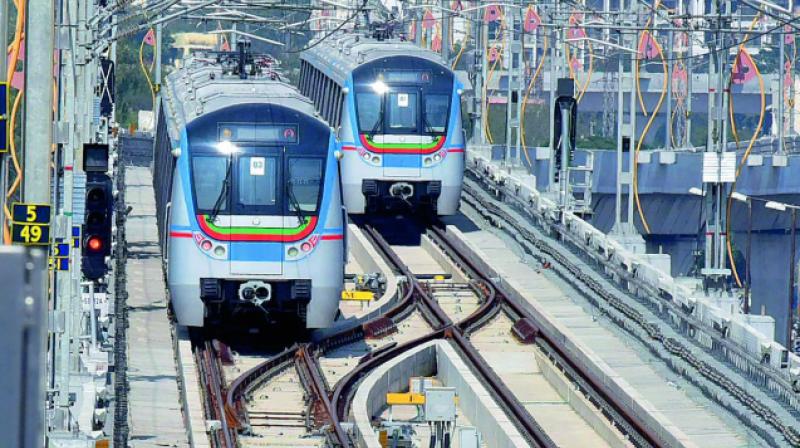 HMRL managing director NVS Reddy reports that the trial run will be initiated soon after the work is finished. The current speed of construction shows that the route will be active by August-end. And the public can start using it by September itself.
Twin single line method is opted for operation as of now between Hi-Tec city and Jubilee hills Checkpost. Which consumes a lot of time. The introduction of the new route will cover more areas. The reversal area nearby Cyber towers and Trident Hotel is also nearing completion. The absence of this reversal facility forces the use of twin single line method here. Once the reversal comes into operation more services can be offered according to passenger needs.
HMRL Managing Director NVS Reddy says, "We have to explore different possibilities and analyze the pros and cons. This apart, the Commissioner of Metro Rail Safety's inspection will be held shortly and a final decision will be taken based on all these factors,"
The currently functioning corridor I and corridor III that runs up until Hi-tec city which is packed with a whopping 3 lakh commuters per day.