Daredevil Season 4 Updates: As noted among the five most popular shows on Netflix between 2015 and 2018 and regularly received critical acclamation. Daredevil ran for three seasons, all of which were released on Netflix between 2015 and 2018.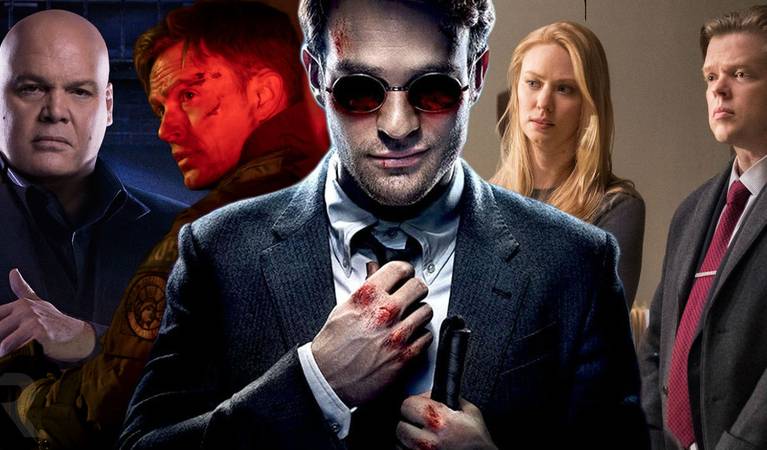 A pitch was made for a fourth season by the creator, but unfortunately, the show was canceled after its third season.
What's the news?
Marvel Studios wants to bring back the cast of the Netflix series, but their return will serve as a kind of soft reboot, according to insider Daniel Richtman (via Knight Edge Media).  In other words, it looks like they'll represent new versions of their characters, but they'll already be characters established within the context of the story.
In short, Daredevil takes place in an alternate reality while the new Marvel Cinematic Universe versions might on local be the MCU's variants (for those of you who have watched Loki).   
What is the mechanism by which they might return?
 The rumor says that they might come back via Hawkeye spin-off Echo, which would then be packaged into their own movie or television property – which fans believe would then be the fourth season of Daredevil.   
It appears more likely that Marvel could bring Daredevil back to fans thanks to Charlie Cox featuring in Spider-Man: No Way Home. However, until the news is officially confirmed, it's best to treat all rumors with a grain of salt.
It's not possible to predict a Daredevil TV series or a movie premiere date, as it's still unclear whether the project is a movie or a TV series. However, don't expect a Daredevil project until at least 2023; if this happens as a preview on Disney Plus, that's a safe guess.
There has been no official confirmation of the Daredevil cast, but the report mentions that Marvel is interested in bringing back a few of the original actors. So, you should expect to see Charlie Cox (Matt Murdock/Daredevil), Elden Henson (Foggy), and so on.
The Daredevil reboot has not yet been confirmed, so there is no trailer simply because there is no footage. If there's a trailer that points to  Daredevil's future with Marvel Studios, Charlie Cox's appearance in Spider-Man: No Way Home could serve as one.
Daredevil Season 4 Rumors!!
Marvel has been rumored to be interested in resetting Daredevil's story, meaning similar versions of the Netflix characters, but with a different experience, for a potential Daredevil sequel.    
However, no details are known at this time.
In addition, it would be logical to assume that if the characters appear in Echo that their own film or TV project will relate directly to the events in that series. Once again, it's best to take these rumors with a grain of salt until Marvel Studios confirms them.
About Daredevil Season 4.
The comic strip superhero Daredevil was crafted for Marvel Comics in 1964 by the creator's Stan Lee and the artist Bill Everett. Bookseller Matt Murdock pushes a man away from a fast-paced truck, saving him he falls into an unknown radioactive substance and loses his eyesight.
Matt is the son of "Battling" boxer  Jack Murdock, who is trying to rebuild his career with the fixer. At the law school, Matt's undertaking in an intense physical training regime contributed to an increase in the senses which was caused by the accident which made him lose his eyesight.
When his father is killed after refusing to fight, Matt dons the costume and becomes Daredevil. He vows to bring his father's killers to justice by becoming Daredevil. The Fixer shortly dies of a heart attack upon encountering the hero, demonstrating the hero's ability to intimidate criminals.
As a lawyer by day, Murdock assists needy clients through his legal practice. At night, he fights injustice directly in the New York neighborhood Hell's Kitchen. The live-action film Daredevil (2003) starred Ben Affleck as the title role, Jennifer Garner as Elektra, and Michael Clarke Duncan as  Kingpin. While the film received middling reviews, it was successful at the box office to motivate the development of "Electra.
In a climactic three-way battle between him, Fisk, and Daredevil, the final scene in Daredevil's third season show FBI agent Benjamin Poindexter on the operating table, undergoing surgery for a fractured spine.   There were significant moments in the comic book history of Daredevil, hinting at the presence of Dr. Oyama, Cognium steel, and the bullseye symbol.
Netflix has one more season of Daredevil in the works, so here's hoping they grab the devil by the horns and give us more of the same.