In the list of legal dramas 'Goliath' has a distinct and secure place. This American legal drama series won Golden Globe Awards for Best Actor- Television Series Drama in 2017. Created by David E. Kelley and Jonathan Shapiro, the TV Series had its fourth and final season premiered only months ago (in September) on Amazon Prime Video. The first season appeared on October 13, 2016.
'Goliath' centers around a formerly brilliant lawyer Billy McBride who is the founder of law farm Cooperman McBride with Donald Cooperman. But he left the farm and turned into an alcoholic after an unusual incident. Now he is on the way to seeking redemption and his one-shot is dependent upon acquiring justice in a legal system where truth has been taken for granted. Billy Bob Thornton plays the role of Billy McBride.
If you are a fan of legal drama you must have watched 'Goliath'. But there are a number of series with law and corruption as their theme out there which you should definitely check.
Must Watch Series If You Like 'Goliath':
For Life-size
Number of Seasons: 2
An American legal drama 'For Life' has been inspired by the life story of Isaac Wright Jr., a person who had been imprisoned after being falsely accused. In prison, Wright became an attorney and helped to overturn the false conviction of his fellow prisoners, and finally proved his own innocence. In the series, the character built in the shape of Wright is Aaron Wallace.
The series premiered on February 11, 2020. In the role of Aaron Wallace, we see Nicholas Pinnock.
Justice-
Number of Seasons: 1
Another American legal drama 'Justice' is produced by Jerry Bruckheimer. The series follows a team of lawyers who have come from different backgrounds and work at TNT&G, a Los Angels law firm. They defend clients convicted for controversial cases which usually make the news. Being truthful to the title, the series leaves it to the viewers at the end as they deduce whether justice has been served once the truth is revealed to them.
Ron Trott, Tom Nicholson, Alden Tuller, Luther Graves are the main cast of the series. It premiered on August 30, 2006.
The Burden of Truth-
Number of Seasons: 4
This Canadian legal drama is about a corporate attorney and a group of sick girls. Joanna Chang is an attorney from Toronto. She returns to her hometown Manitoba to represent a big pharmaceutical company against some girls all of whom are sick. But when she delves deeper into the case, she discovers a bigger conspiracy and the real reason behind their sickness along with the fact that the girls need her help.
Kristin Kreuk plays the role of Joanna Chang. The series premiered on CBC on January 10, 2018, and ended in March of 2021.
Perry Mason-
Number of Seasons: 1
Based on the same-named character created by Erle Stanley Gardner this period drama tells the story of renowned defense lawyer Perry Mason's origin. The series is set in the year 1932 when the whole of the U.S. is still recovering from the effect of the Grear Depression except Los Angeles which continues prospering. Perry Mason, who is a down-and-out private investigator and who is struggling with his own personal issues is hired for a trial of a sensational case of child abduction. When he drives into the investigation, it leads to much bigger consequences for himself and the local leaders.
Matthew Rhys plays the role of the titular Perry Mason. The series premiered on HBO on June 21, 2020, and in July the show got renewed for a newer season in the hands of two new showrunners.
North Square-
Number of Seasons: 1
Broadcast by Channel 4, 'North Square' is a British drama. It follows a group of young barristers whose aim is to build their place in the legal profession at Leeds' defense chamber. Peter McLeish is the Machiavellian chief who is leading them. He is a work-obsessed unsocial guy. In order to beat Michael Marlowe, his archival, he builds a relationship with the top criminal of Leeds to get their case first.
Phil Davis stars in the role of Peter McLeish. The show was released on October 18, 2020, and gained a lot of critical acclamation.
L.A. Law-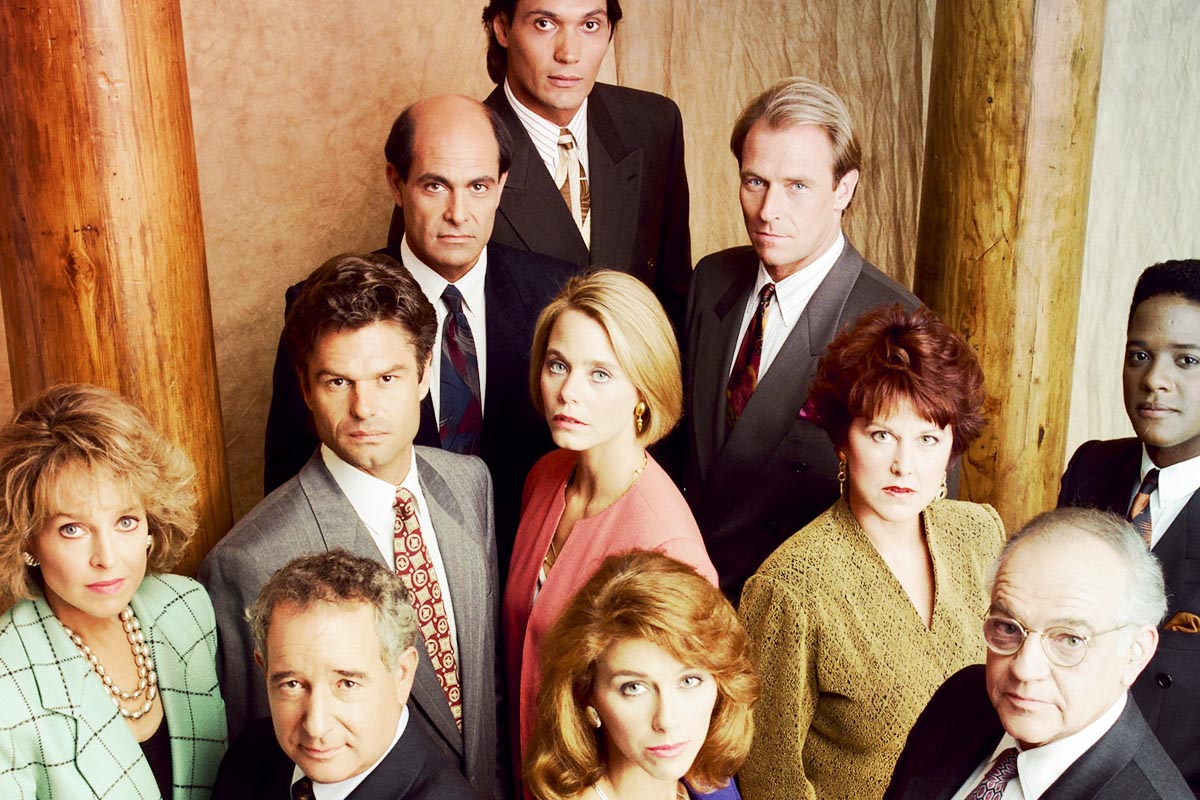 Number of Seasons: 8
This American legal drama is set in and around a fictional law firm in Los Angeles. The show besides dealing with legal issues also featured social issues like racism, homophobia, sexual harassment, abortion, etc. Richard Dysart, Alan Rachins, Corbin Bernsen are some of the cast members of the series.
The series premiered on September 15, 1986, and ran till 1994. The show gained a lot of popularity and received a total of fifteen Emmy Awards which include four Primetime Emmy Awards under the category of Outstanding Drama Series.
All Rise-
Number of Seasons: 2
This American legal drama series was initially premiered on CBS, but after two seasons it got transferred to Oprah Winfrey Network or OWN. The story of the series is about the personal lives of Los Angeles public defenders, prosecutors, and judges. The main focus is Lola Charmichael, a newly appointed judge who has been a highly regarded deputy district attorney previously. To honor her new designation, she soon starts to push the boundaries and challenges what is expected from her as a judge.
Simone Missick plays the role of Lola Carmichael. It aired on September 23, 2019, and still running with the same popularity.