Susanna Reid seemed to be unimpressed with her co-host Alastair Campbell after he failed to control his laughter on Wednesday's show.
Alastair seemed a bit giddy after the show returned from the ads.
Tony Blair's ex-Labour spokesman, aged 64, couldn't seem to keep his head above water as he came in front of the camera.
His co-star Susanna Reid, 50, wanted to get to the root of his laughter and asked him: "You alright?"
He remained defiant and didn't reveal exactly what had been mentioned in his ear piece live on air.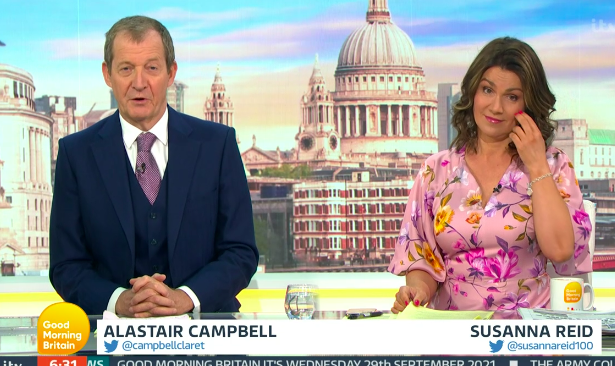 The temporary host responded: "I was laughing at something sorry."
Susanna chirped back: "Do you want to share it with the group Alastair?"
"Errr I don't think I can really, it was going on in my ear and it was deeply inappropriate," explained the former Labour party spokesperson.
Getting back on track, Susanna added: "Yes, perhaps keep that in your ear."
Meanwhile, Alastair was also left dissatisfied and he returned to Wednesday's show showing off his "Brexit apple".
British journalist, Alastair, started Tuesday's program complaining about an Ocado delivery.
Susanna, his TV partner, heard him explain to Susanna that he had an issue with the fruit he received in a grocery delivery.
The TV presenter wafted a crinkled apple in the air as he told Susanna: "I've always got a complaint."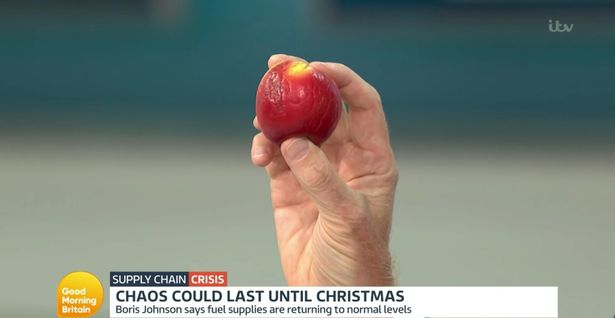 Doctor Hilary interjected: "Is it a medical complaint?" which caused laughter among the studio.
Susanna carried on: "It is about delayed produce isn't it?"
Venting, Alastair explained: "So last nights Ocado shop arrives," [holds up apples].
Turning to Susanna, he added: "Have a feel of my apples."
"Right Okay, it is a little wrinkly, I have to say," mocked Susanna with the fruit now in hand.
Tony Blair's former right hand man, vented: "It's wrinkly and it's soft and it's a bit rubbery… so we checked it out with Ocado and they basically said it's because of a shortage with pickers, shortage of drivers and a shortage of C02.
"So all of these things we've been talking about are now affected our apples as well.
"So this is a Brexit apple I would argue."