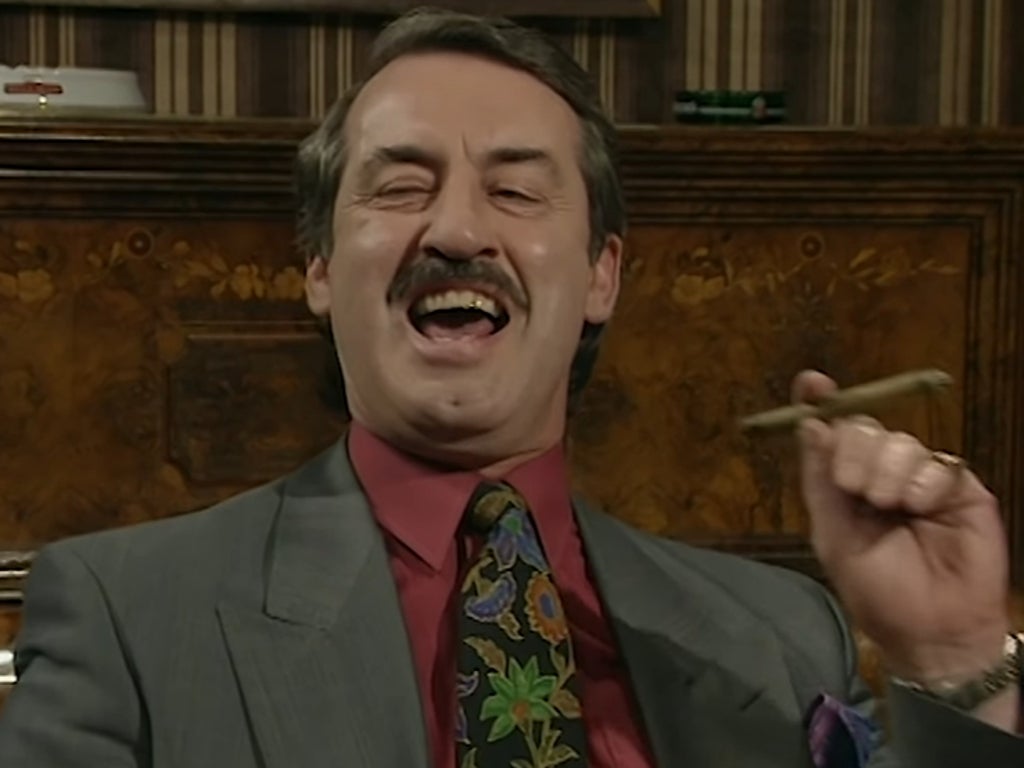 Only Fools and Horses fans are recalling some of Boycie's most memorable scenes after it was announced actor John Challis who played him, has died at the age of 79.
His family said in a statement that he died "peacefully in his sleep, after a long battle with cancer".
Challis was best known for playing unscrupulous second-hand car dealer Terrance Aubrey "Boycie" Boyce in the popular BBC sitcom Only Fools And Horses from 1981 to 2003.
The fan favourite was also given his own spin-off series The Green Green Grass from 2005-2009.
"It is with heavy hearts that we bring you such sad news," the family statement read.
Sign up to our free Indy100 weekly newsletter 'The Viral Democracy'
"Our dear friend and yours, John Challis, has died peacefully in his sleep, after a long battle with cancer.
"He will always be loved for being 'Boycie' and leaves a great legacy of work that will continue to bring pleasure and smiles for many years to come.
"Please respect the privacy of John's family and friends at this difficult time, and be assured that in the future there will be an occasion to celebrate John's life – when everyone will be welcome to come along."
At the end of the statement, they used Boycie's famous catchphrase, adding: "As Boycie would have said… you know it makes sense!"
His family have also asked that any donations in his memory can be made to his chosen animal charities Cuan Wildlife Rescue, Tusk or the British Hedgehog Preservation Society.
Here are some of Boycie's finest moments, fans have been sharing in the wake of Challis' passing.
Boycie was terrified when Danny and Tony Driscoll arrived at the pub looking for Del Boy.
When Boycie got Del and Rodney to look after his and his wife Marlene's new puppy but failed to mention the puppy was a Great Dane…
Del and Boyce's tense game of poker was also a fan favourite.
When Del Boy hilariously called Boycie's bluff by pretending to tell Marlene about "that little bird in Sheffield."
Boycie was told by Del that he could get tickets to Wimbledon for him and his client… but in the end, the tickets weren't for tennis (classic Del).
Of course, fans have also been reminiscing over Boycie's distinctive and iconic laugh – with some describing it as "the best laugh in any TV show ever."
Other great moments shared online include the time Challis had to think on his feet while appearing as a guest on a Serbian talk show program after the host was rushed to hospital.
Challis was given honorary citizenship in the Balkans because of how much they love Only Fools and Horses.
A wave of "Boycie mania" swept through the country last year when Challis came to visit for his documentary called "Boycie In Belgrade" to explain how the sitcom became so popular in Serbia.
We'll leave with this great clip where it seems Challis was a fan of the song "Ace of Spades" by Motörhead (as shared by his unlikely friend rapper Ice-T) as he can be seen rocking out to it (guitar solo included) where he then cheekily looks at the camera and asks: "Haven't got any ABBA, have you?"
RIP John Challis 1942-2021