Colony on Titan
Cadet Sasha mentions that she grew up in a 'Colony on Titan'. In the Discovery Season 3 episode "People of Earth", we learned that Titan had been in a feud with Earth for decades, one that was spread by the USS Discovery.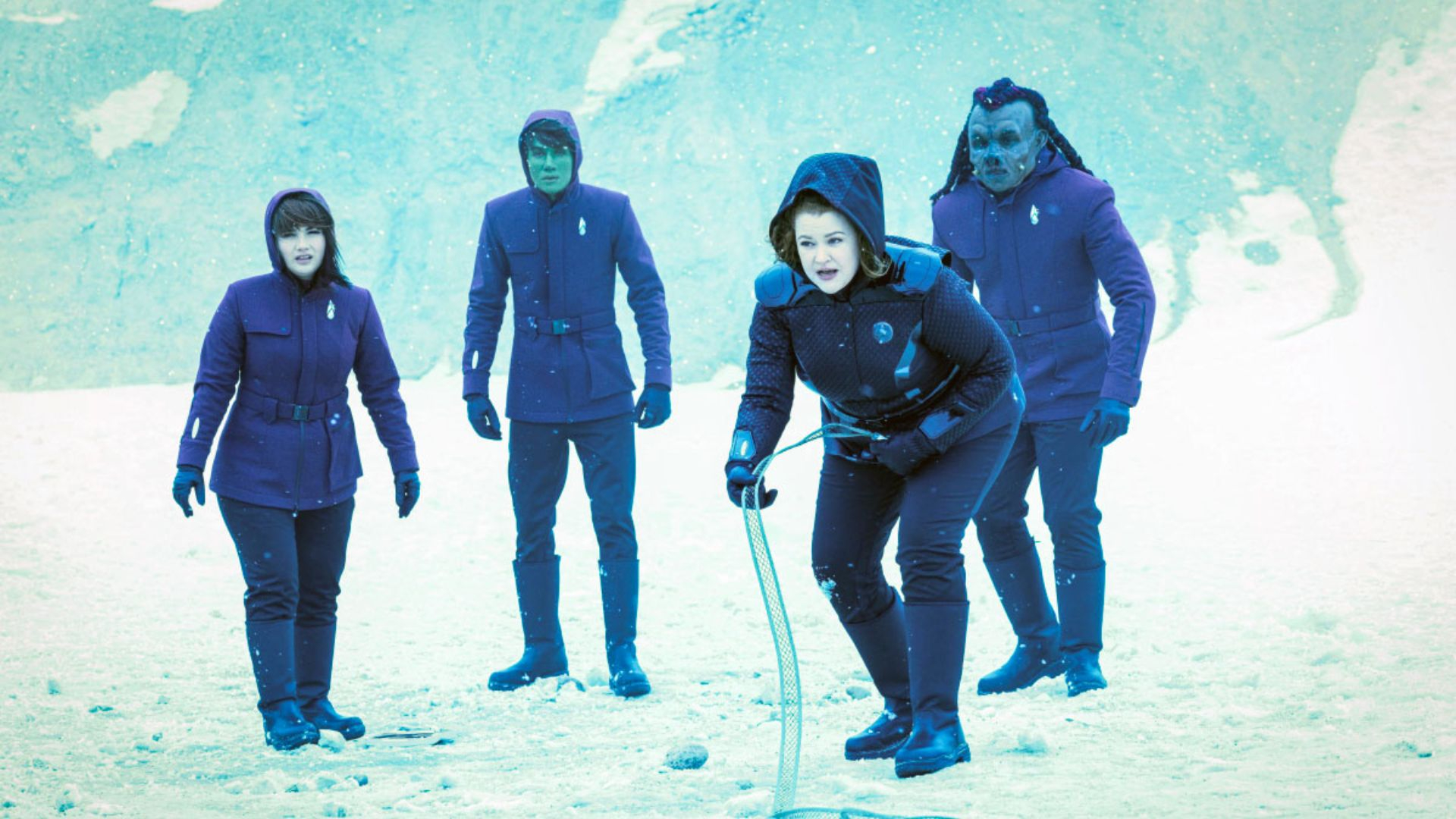 Vasquez rocks out Ni'Var .'s window
From the window of the meeting room on Ni'Var, we see several rock formations that resemble the Vasquez rocks. These real rock formations are an almost ubiquitous Easter egg in all Star Trek. North of Los Angeles, the area that served several alien planets in Terms of Service, TNG, and yes, was the planet Vulcan (Ni'Var) in the 2009 reboot. More recently, Vasquez's rocks have been making a big inroads in Star Trek: Picard Season 1 first appears as the real Vasquez rocks. In this case in DISCO, obviously this is CGI.
Multiple references to the Terms of Service episode "The Galileo Seven"
The entire setup of Tilly's predicament and various aspects of the shuttle crash are deliberate homages to the 1967 episode of The original series, "The Galileo Seven." The episode's director, John Ottman, has confirmed that in a conversation with the episode's writers – Alan McElroy and Eric J. Roberts – this episode was intended to refer directly to various aspects of 'The Galileo Seven'. So that means there are quite a few little winks to that episode
When Adira goes to repair parts of the shuttle, they move a grid on the floor. This is exactly how Scotty works on the Galileo shuttle.
In "The Galileo Seven" the shuttle is lost in a "quasar-like" space region called Murasaki 312. In "All Is Possible" the cadet shuttle crashes on a moon of a larger planet, but there we are told there are more than 30 moons . The point is that in any case it would be impossible to find the shuttle in a short time.
In both episodes, the shuttle's trapped crew hears roars from outside on the alien planet. In "All Is Possible" these turn out to be real snow monsters. But in "The Galileo Seven" they were giants with spears.
In both episodes, a crew member dies and everyone is told to quickly get on with their survival duties.
Finally, in "The Galileo Seven", Spock's ability to pilot the shuttle was questioned by several other people, suggesting a degree of bias against Spock simply because he is half a Vulcan. In 'All Is Possible', Harral and Gorev distrust each other because, like Orion and Tellarite, they have bad blood from the time when the Emerald Chain ruled different planets. (Which also references the events of Season 3.)
To be fair, "The Galileo Seven" isn't the only Star Trek episode that focuses on a shuttle crash and/or crew members getting trapped in a shuttle. Other notable episodes include 'Final MIssion', in TNG, when Wesley and Picard crash into a planet, and 'Shuttlepod One' in Company, in which Trip and Reed shiver in a stranded shuttle pod, hoping someone will find them.
Tilly's photo with Michael
Towards the end of the episode, in Tilly's quarters, we see a photo of her and Michael from earlier in the Discovery timeline. In particular, this shot must be from season 2, because Tilly is shaking a Starfleet badge that is not her Cadet badge from Season 1. This suggests that this photo must have been taken sometime between Season 1 and Season 2, perhaps around the events of the Tilly centric Short trips episode "Runaway." Basically, there's actually a pretty tight time frame in which this photo could have been taken. As Season 2 kicked off, it seems unlikely Burnham and Tilly would have posed for this photo while Burnham was super stressed about finding Spock or after Burnham found out her mother was the Red Angel.
Remember when we first became roomies?
Tilly remembers the moment she and Michael Burnham first met. They had to share a room and Tilly says, "I was afraid to sleep with a famous mutineer." This refers to the third episode of Star Trek: ExploreYes Season 1, 'Context Is For Kings', in which Burnham joins the crew of the… Discovery after her mutiny on the USS Shenzhou in "The Battle of the Binary Stars."