Manchester United goalkeeper David de Gea managed to end a 40-game hoodoo in Sunday's 2-1 victory against West Ham United by saving his first penalty since 2016.
The Spanish stopper was called up to face Hammers midfielder Mark Noble. With 40 consecutive penalties handed for club and country, De Gea kept his cool and won the penalty.
De Gea last denied a penalty goal in April 2016 against Romelu Lukaku, then Everton striker.
He is not unknown to critics who have been critical of his penalty saving abilities. This was especially after Villareal's crushing loss to them in the Europa League. De Gea lost the last penalty in an 11-10 loss.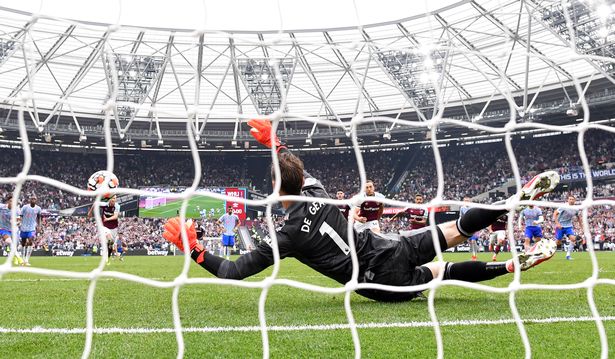 But United have regained faith in De Gea and he has reclaimed his Premier League place with Dean Henderson ruled out due to injury and the victory over West Ham ought to further solidify his place in the team.
Although Declan Rice, an international midfielder, was expected to take the penalty, Hammers boss David Moyes called upon Mark Noble, who had not played any part in the game, for the job.
Sky Sports spoke to de Gea after the game and he was happy to have helped his team win.
"I saw Rice with the ball and I was expecting him to take the penalty, but then I see Noble with the ball in the last minute of the game and I made the save.
Is David de Gea now the Man Utd's number one player? Let us know in the comments section
Want to be on the ball with all of the latest football news?
Get the Daily Star email newsletter for football news and updates.
You will never miss any of the latest transfer news or agenda-setting stories.
How do I sign up?
It takes only seconds.
Simply enter your email address and hit the "subscribe" button.
That's all. Every morning, you'll get an email with the latest news stories.
Here's more information about our email newsletter.
"It was a great goal from Jesse [Lingard] and a massive three points for us. It's always difficult to play here so I'm really happy."
Red Devils manager Ole Gunnar Solskjaer was glowing about the Spanish stopper as well as the rest of his team in their hard-fought win at the London Stadium.
"He's a different man!" He spoke out about de Gea. "Of course, he asked to come back early from pre-season. He wanted to show how good he is.
"He's so focused and of course he saved two points for us today."
There was some questioning over the legitimacy of the penalty decision, but Solskjaer admitted that the decision was the correct call.
He told Sky Sports: "It probably is [a penalty], it's from a very short distance but probably Luke makes himself a little bit bigger.
"So, if you want to make yourself bigger, get outside the box."
Manchester United will be back in action against West Ham on Wednesday, this time hosting the Hammers in an EFL cup game at Old Trafford.