After four eliminations, things started getting emotional and dramatic. And almost everyone is speculating that this contestant is going to leave the house this Sunday and that contest is Sakshi Agarwal.
The first housemate to get eliminated is Fathima Babu, then it was Vanitha, the third person to leave the house was Mohan Vaidya. And the latest contestant was Meera Mithun. This Sunday, we are going to see the fifth elimination.
Currently, five contestants have been nominated for elimination. Those five contestants are Abhirami, Kavin, Madhumitha, Reshma and Sakshi. And from the sources we have, we predict that it's going to be Sakshi.
If you want to save Sakshi or any of your favorite contestant from elimination, here how to do it:
How To Save Your Favorite Contestant By Voting
There are two ways to vote for your favorite housemate. One is through Hotstar app and other is by giving the missed call to the number allotted to each candidate. We will let you know how to do both.
Voting Through Hotstar
Follow the below steps to vote for your favorite candidates on Hotstar App:
First, you have to download the Hotstar app on your phone. You will find the app in the Play Store (Andriod) as well as App Store (Apple).
After installing the app, you have to sign up with your Email or Facebook account.
Once you sign up, you will be having your own account.
Then, you have to enter the words 'Bigg Boss Telugu' in the search bar of the app.
And the Bigg Boss Telugu show will appear on the screen.
There, you have to click on the 'Vote' button in green color.
You will be given 50 votes, you can distribute them among your favorite candidates.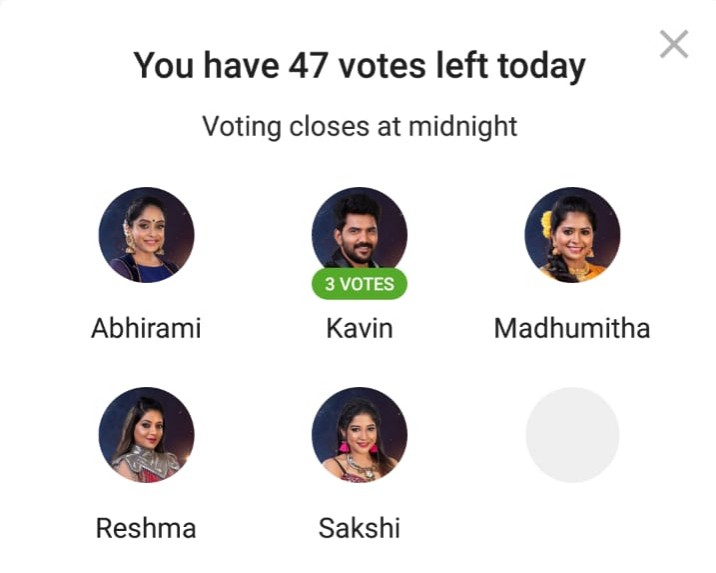 If you click on a candidate once, that is considered as one vote, to vote all 10 votes, you have click 50 times on the candidate.
And after clicking 50 times, your voting is done.
Note: Your votes will expire at 12 AM each night. Make sure you vote before that time.
Voting By Giving Missed Call
A number is allotted to each contestant in the house. To vote and save them, you have to give a missed call to that number. Here are the numbers that are allotted to each contestant.
Abhirami: 836 7796 801
Kavin: 836 7796 804
Madhumitha: 836 7796 806
Reshma: 836 7796 809
Sakshi: 836 7796 810
To increase the chances of saving your favorite contestant from elimination, you can do voting through both Hotstar and by giving a missed call.
So yeah, our prediction is Sakshi. Let's see what happens. Do let us know what is your prediction regarding this week's elimination by writing in the comments section below.