Things are taking different kinds of turn in the ninth week of Bigg Boss Malayalam 2. In the ninth week, Amrutha and Abirami are currently leading in terms of the poll; technically, they are leading in terms of voting since the first day. A couple of nominations that are bothering the audience this week are the nominations of Alassandra and Pashanam Shaji. Moreover, the contestants are fighting extremely hard to be saved from being evicted.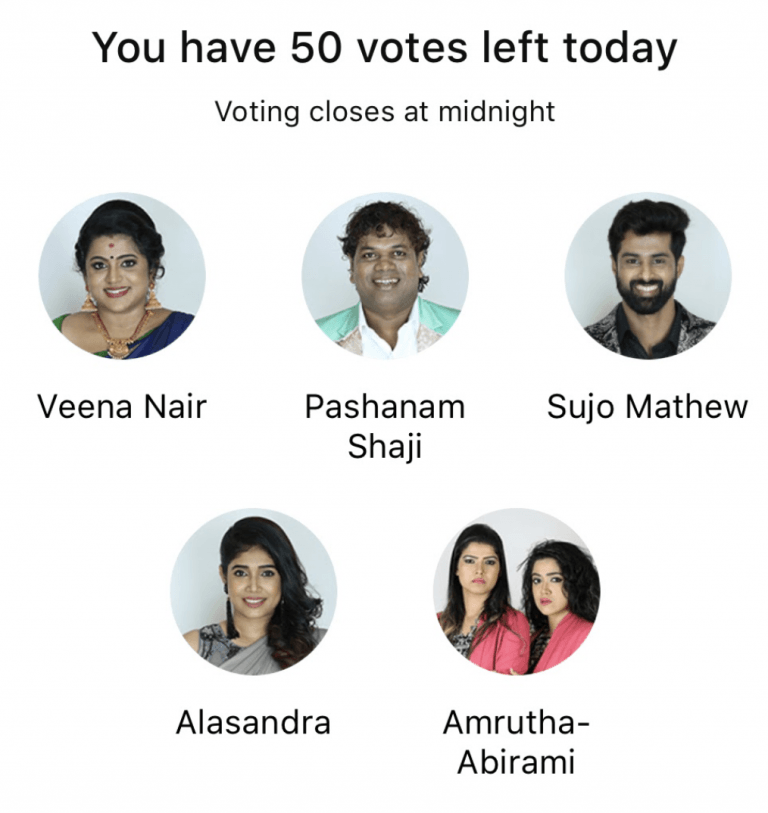 Who is leading the voting polls?
The tasks in the game are going to get tougher every day. It is important to note that Amrutha/Abirami alongside Sujo is dominating the voting polls conceived by the audience. It is still early to say as to who is going to dominate and the game and who is going to get eliminated.
On the other hand, Shaji and Alassandra are not in a safe position, not even by a single bit. In addition to this, Veena is trailing in terms of voting trends which would change if there are changes in terms of the performance.
What is the status of Pashanam Shaji and Alassandra in the show?
There is a significant reshuffle that is taking place both in the bottom and the top position. Shaji is said to be in a safe side by the end of the day. Nevertheless, Sujo and Alassandra's fans might pull off a completely silent resurgence which would be bad for Shaji.
It would be interesting to see if Shaji recovers from the pit of elimination or not.
Amrutha-Abhirami – 49% Voting Share
Alassandra – 18% Voting Share
Sujo Mathew – 18% Voting Share
Pashanam Shaji – 7% Voting Share
Veena Nair – 7% Voting Share