In the certain turn of events in Bigg Boss Malayalam Season 2 all the contestants of the house are reportedly nominated for eviction. The list of contestants who have been nominated are:
Sujo Mathew
Alasandra
Pashanam Shaji
Alina
Arya
RJ Raghu
Daya Aswathy
Amrutha-Abirami
Who are leading in Bigg Boss Malayalam Season 2?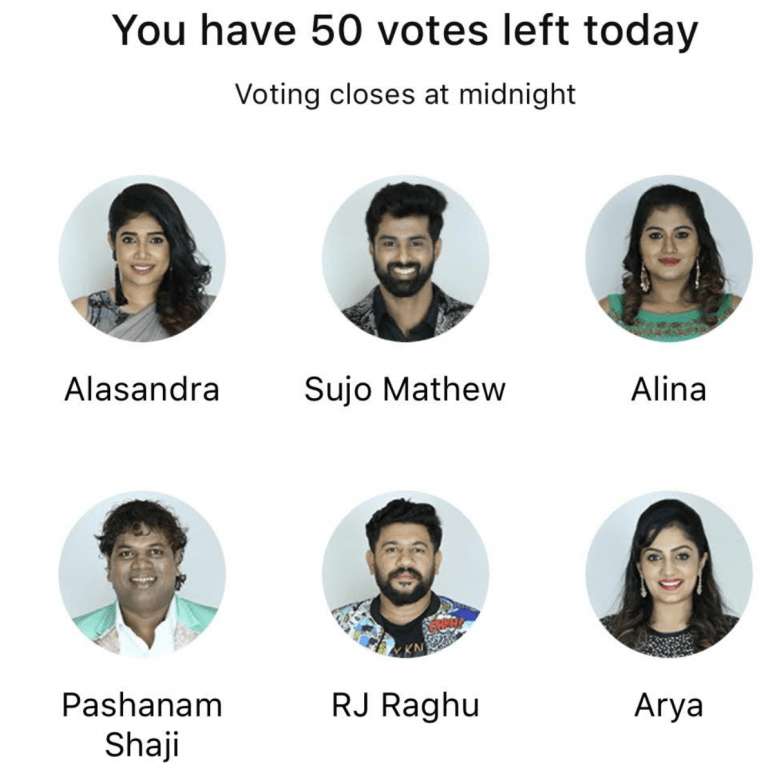 Abirami-Amrutha are currently leading in the voting polls from the first day. Nevertheless, it was quite surprising to witness contestants like Arya, Pashanam Shaji, and RJ Raghu have been nominated this week.
The contestants are trying everything in their might to be protected from evictions as the tasks and survival in the house is getting tough everyday.
When it comes to leading in terms of polls, Amrutha/Abirami alongside Shaji are in the top two spots. However, there are possibilities that the early trends would change in the forthcoming days. Raghu and Alina aren't safe even this week as they already have been going through a tough phase.
On the other hand, Daya trails behind in terms of voting and it can change if her performance in the show is loved by the audience. The most promising fight among the contestants would be to stay in the bottom position. Alina, Daya, and Raghu are in a dire need to step up in the game if they wish to survive.
Amrutha-Abirami are leading the polls with 22% voting share whereas the lowest voting share goes to Daya Aswathy as she has 7% of voting share.
Did Rajithkumar's elimination has changed the game in Bigg Boss Malayalam?
Rajithkumar is eliminated from the house because of his misconduct during a task. As Rajithkumar was a strong contestant, his fan-following is scattered that will benefit other contestants.