"Ambulance" is an upcoming American action thriller film. Michael Bay has directed and produced the movie. It is a co-production between New Republic Pictures, Endeavor Content, Project X Entertainment, and Bay Films. Also, it is based on the 2005 Danish film of the same name by Laurits Munch-Petersen and Lars Andreas Pedersen. The project was first announced in August 2015 with Phillip Noyce attached to direct. In 2017, he was replaced by Navot Papushado and Aharon Keshales, both of whom were eventually replaced by Bay in 2020.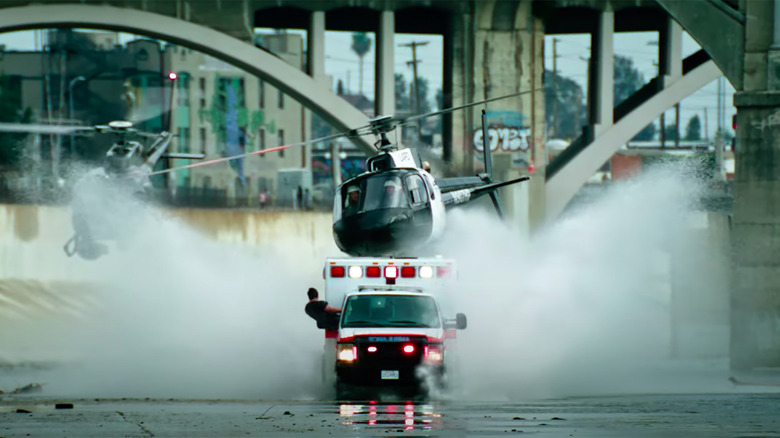 Ambulance: Casts and Plot!
The film stars Jake Gyllenhaal, Yahya Abdul-Mateen II, and Eiza González. Based on the 2005 Danish film of the same name, the action thriller centers on war veteran William Sharp as he reaches out to his adoptive criminal brother Danny for help to get $231,000 to pay for his wife's surgery. The two head out for a $32 million bank heist. And when things go wrong and a Los Angeles Police officer is shot, they hijack an ambulance with an EMT and the dying officer as their hostages. Finally, they race to find a way to escape the law.
Jake Gyllenhaal and Yahya Abdul-Mateen II lead the ensemble cast of Ambulance alongside Eiza González, Garret Dillahunt, A Martinez, Keir O'Donnell, Moses Ingram, and Wale Folarin.
Ambulance: Release Date and Trailer!
"Ambulance" will go from Feb. 18 to April 8, 2022, which is the weekend before Easter weekend. On its previous date, Feb. 18, the movie was up against Sony's feature take on the Playstation game Uncharted starring Tom Holland, Mark Wahlberg, and Antonio Banderas. Although Ambulance has been delayed for two months, it now takes the spot of Sony's Brad Pitt-led adaptation of Bullet Train, a similar ensemble action thriller that has been pushed to the summer.
Check out the trailer here:
Universal first produced the trailer to Ambulance at CinemaCon back in August. Only time will tell about the success when Ambulance hits theaters on April 8.